Coaching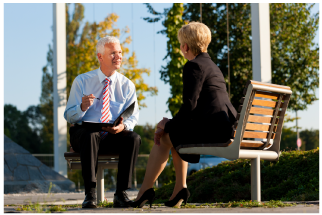 Coaching can be a powerful leadership tool which can diagnose derailers and strengthen a person's potential through targeted development. Don't waste your coaching dollars or your leaders' time on coaching that is not based on adult learning and instructional design principles.
inSITE Coaches provide an architecture for Learning which includes:
an upfront assessment
instructional learning strategies
level three evaluation methods
Executive Coaching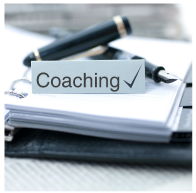 Our coaches are provided with inSITE's structured coaching program to ensure that they are coaching on what is important for the leader's development and providing the greatest impact for the organization. We have found that many clients want to use coaching for their own benefit or just want to "go through the motions." If your POC approves, coaches will not allow leaders to focus on their career development or on a competency that is not a challenge for the individual. Since every work place differs, if we have more than one coach working with your organization, our coaches collaborate with each other on the progress they are finding with their clients and share with each other the tips and strategies that work. They also share issues that surface as obstacles to the clients' development. We report all trends to our POC and to the senior leadership team as requested while keeping strict confidentiality with our coaching clients.
Coaching can be conducted in person, via phone, Skype or other means.
Coaching Programs
A typical twelve month executive coaching approach may look like this:
Sessions 1 and 2
The first meeting is an introduction, rule setting and a session to develop trust. The second session explores past successes and helps the coach determine the level of introspection and desire for development of the client. The LDP is introduced.
Sessions 3 and 4
The third session focuses on vision and goals and may continue with a focus on self awareness if needed. The fourth session finalizes the LDP including competencies selected for development.
Sessions 5 and 6
Although measurable goals have been discussed in session 3, in this session they are crystallized with a plan (a gap analysis) for accomplishing them. The fifth session provides for reflection and if necessary, completion of the gap analysis.
Sessions 7 - 12
Each session will focus on the first competency, behaviors that indicate mastery, strategies from the gap analysis to achieve improvement, and measurable progress.
Sessions 13 and 14
As an aspect of evaluation of the development and of this program, there will be a mini 360° assessment administered during month 6. The focus will solely be on the competencies each executive has been developing. For session 13, the results of this mini 360° assessment are discussed and a progress plan or corrective action plan is developed. For session 14, the second competency is defined behaviorally.
Sessions 15 - 18
Each session will focus on the second competency, behaviors that indicate mastery, strategies from the gap analysis to achieve improvement, and measurable progress. The first competency will also be revisited to ensure continuous improvement strategies are being used.
Sessions 19 - 22
Each session will either focus on the third competency or new measurements for the first two competencies. These goals will be developed and tracked in the same as was done for the first two competencies.
Sessions 23 and 24
Session 23 is a session for reflection and lessons learned; draft of an action plan for continued development. Session 24 is a session for finalization of an action plan for continued life long learning and development. Clients will evaluate their success (as demonstrated by achievement of their measurable objectives.)
Team Coaching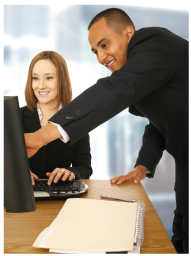 Often, teams have the subject matter expertise to explore a problem or opportunity and make recommendations, but they cannot seem to work together in unison to produce effectively. In these situations, a team building program may help but often the team leaves the "feel good sessions" only to return to former behaviors and relationships. Team coaching helps teams determine what is derailing them as a team and provides the continuous structure and guidelines so they work together effectively and quickly begin producing results. Once in team coaching, every team member begins to recommit and feel inspired and dedicated to team solutions and recommendations. They usually say about team coaching, "Why didn't we do this sooner!"
360° Assessment and Solutions
text inSITE will develop questions that reflect the areas of development for your executives, managers or employees through use of standard competencies as well as areas identified specific to your organization. We understand that standard questions may not provide the measurements you seeking to improve. We will custom develop questions based on the competencies you want to evaluate, your culture, industry and business strategies. inSITE will handle all aspects of administration of the 360° assessments including communication to the learner and their raters, sending out reminders, and fielding questions.
Once inSITE consultants have worked with your organization to determine the competencies, and have developed specific and measurable behaviors, those behaviors will be formulated into 360° assessment questions. In this way, we know that the 360° assessment is directly linked to the organizational goals and the behaviors that learners need to demonstrate to meet the strategic plan and to be successful leaders in your organization.
inSITE provides a coaching debrief with learners when providing their reports to them. Many learners only look at the negative responses and without proper guidance can become consumed by low scores or a particular comment. Our coaches help ready the learners for their report and work with them initially to accept and benefit from it. We also introduce our Leadership Development Plan (LDP). This document is provided to learners as the catalyst to begin their development. They will be led to select two to three competencies for development. We encourage learners to consider their strengths, their potential derailers and balance individual competencies with the needs of the organization.
When the 360° Assessment is accompanied by coaching or a leadership developmental program, we also recommend a post-360° assessment to evaluate the growth and learning in a measurable way.